The
Gyrocopter

Experience - MurrayBridge
Pilot Training
Our mission is to teach our students to become safe and courteous gyroplane pilots while adopting a professional and courteous approach to airmanship.
If you continue your training to to be qualified as a gyroplane pilot, your training will be completed in both the Cavalon and the ELA 10-Eclipse. All students will be taught using both aircraft during their training in order to gain sufficient exposure to rotor management.
Please note if you wish to continue your training to be qualified as a gyroplane pilot there are minimum requirements to meet to be issued with a pilot's licence. You must meet a minimum of 20 flight hours, if you have previous flying experience a minimum of 5 hours training with at least 1 hour in command. Your instructor will be able to provide you with the full list of requirements for issue of a pilot certificate.
Our Aircraft
The Cavalon has redefined the benchmark for contemporary gyro design and raised it even higher. The sleek lines and beauty of what has become arguably the standard by which all two seat side by side gyros will be judged into future. Featuring unsurpassed comfort and visibility, the Cavalon has fully adjustable seating and controls, a generous luggage area and 100 litres of fuel capacity giving it a range that makes it a serious touring aircraft.
The 10-Eclipse is a two seat gyroplane in tandem configuration with an enclosed cockpit - it's the "fighter jet" of the gyro world. The high attention to detail combined with comfort in an ergonomic interior give the flight controls a natural feel. The forward leaning instrument panel is well laid out and lighted. The 10-Eclipse is designed for traveling, its high performance and sophisticated interior finish will make your flying dreams come true.
Online Training Records and Training Material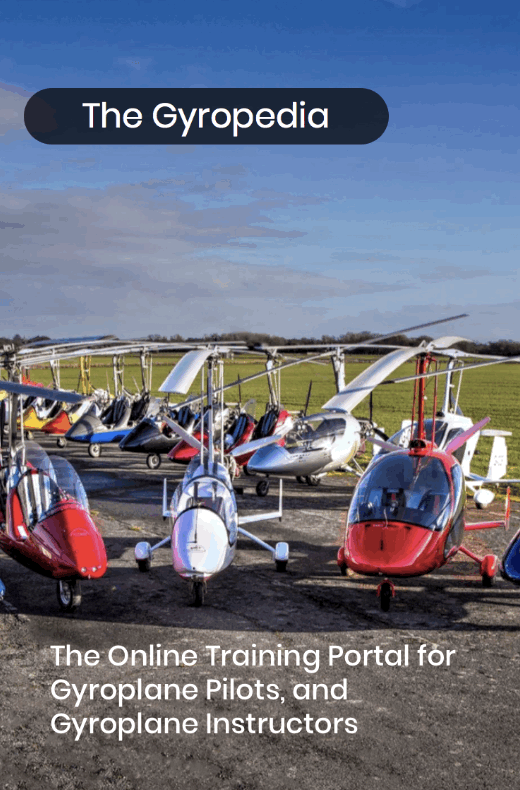 Your pilot training records will be available in the web portal called "The Gyropedia". This is a web based program that allows us to easily comply with all the training standards set by ASRA (Australia Sport Rotorcraft Association) and IAPGT (The International Association of Professional Gyroplane Training). It allows you to follow your progress through the course.
The Gyropedia also contains a complete set of online training material, incorporating videos, study guides and question banks to help you prepare for your lessons and the exams. The training material elements of the Gyropedia are enabled with an annual subscription ($199 AUD paid annually in advance).
The Gyropedia can be accessed from the "Gyropedia" link in the menu bar. Please note, there is a separate registration for the Gyropedia, which is an independent system from the registration on the main Gyrocopter Experience website (the username and password are not currently linked).