Pilot Training
The Gyrocopter Experience - York does ALL it's pilot training as intensive courses. Each course will last 4 or 5 days and generally there are two students per instructor. This means that you will aim to fly 2-3 hours per day or 10-12 hours per week. Believe us, it is enough concentration for anyone.
Having a "buddy" on an intensive course has a number of advantages, not least, you have someone to share your excitement, frustration, exhiliration, and even more frustration as you progress through the course. There will be times when you know what you need to do, but you just cannot get your hands and feet to do it! Also, when you do something right - you have someone to tell; equally when you do something wrong, like a bouncy landing, you have someone to take the micky out of you!
It's a holiday!
One of our students once told us that "actually we supply activity holidays". What a cool thing to say. It's true, think of your training time here as part of your annual holiday, what a great way to spend your leisure time.
But there's more to learning than just flying!
As well as learning to control the aircraft you also need to learn some of the theory that goes along with it. We do that too. It's not scarey and we will help you through it.
Book your whole course
If you are new to flying, you will need about 6 courses. If you already have a licence then you are likely to require about 4 courses. We are very busy and generally booked up months in advance. You are advised to book your entire schedule early, even if you want to book just 2 weeks per year for the next 3 years. That way you will complete your course and join the merry gang of Gyronauts.
Our Aircraft
Open Cockpit
For that "wind in your hair" feeling, we fly the Magni M16C and the Autogyro MTO Sport. Both of these aircraft are simply fantastic with unrestricted views from the open cockpit.
Enclosed Cockpit
For that more luxurious feeling, we fly the Magni 24C Orion. This is a fully enclosed side by side gyroplane.
We offer training in the Autogyro Calidus and Autogyro Cavalon only for people who are owners of their own Gyrocopter.
Online Training Records and Training Material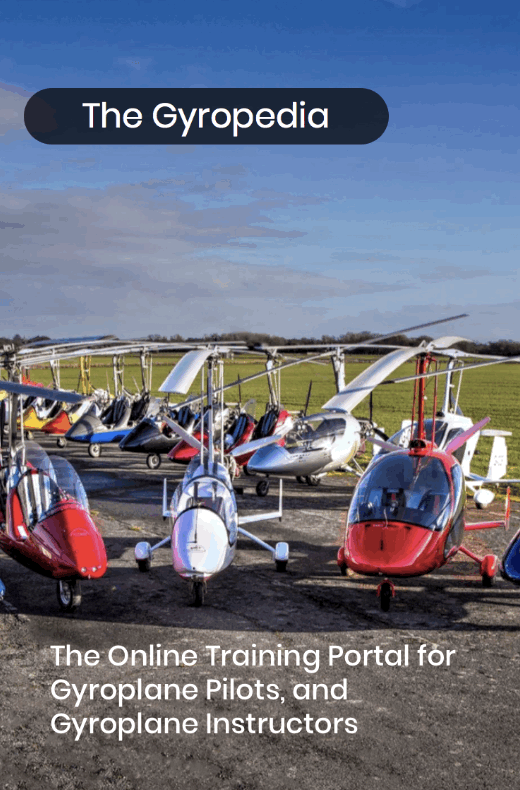 Your pilot training records will be available in the web portal called "The Gyropedia". This is a web based program that allows us to easily comply with all the training standards set by the UK CAA (Civil Aviation Authority) and IAPGT (The International Association of Professional Gyroplane Training). It allows you to follow your progress through the course.
The Gyropedia also contains a complete set of online training material, incorporating videos, study guides and question banks to help you prepare for your lessons and the exams. The training material elements of the Gyropedia are enabled with an annual subscription (£10/month paid annually in advance).
The Gyropedia can be accessed from the "Gyropedia" link in the menu bar. Please note, there is a separate registration for the Gyropedia, which is an independant system from the registration on the main Gyrocopter Experience website (the username and pasword are not currently linked).