Pilot Training
The Gyrocopter Experience at Perth offers flight training 7 days a week, whether it is intensive training, or on an hour by hour basis. The hourly training rate is based pro-rata @ £170/hr for the open cockpit gyrocopter. Courses cater for students wanting to train for a Private Pilot's Licence for Gyroplanes or PPL(G) in addition to advanced flying training for existing pilots.
On an intensive course, the average student can expect to fly for two hours each day. It might not sound that much, but learning to fly is very absorbing and intense and it takes a while for your brain to assimilate what you've been taught. We discourage students from booking intensive training weeks back to back as it isn't the most productive way to learn, as you need time to fully understand and absorb everything you've learned. The optimum gap between training weeks is probably between one and four weeks, however, it is not unusual to have students who are learning to fly over a couple of years and have longer gaps between each intensive week.
We fully understand and respect that you will probably use valuable vacation time in learning to fly and we make every effort to fly despite sometimes less than ideal weather conditions. We will sometimes rearrange the order that things get taught in an effort to make the best use of the varying British weather conditions. In the event that flying is not possible, we try to switch our attention to the various ground school topics in order to ensure that time isn't wasted.
We have had great feedback regarding learning on these intensive courses as opposed to training an hour here and there spread over a long period. It is often helpful to remove yourself from your normal everyday life and fully immerse yourself in flying training. However, if it is not possible to enrol in an intensive training course, we will endeavour to accommodate your needs on an hour by hour basis.
Our Aircraft
We use the state of the art, factory-built German MTOSport open cockpit gyrocopter, and the enclosed cockpit Calidus gyrocopter for all of our training needs. A truly exhilarating experience in both open and enclosed cockpit sport aviation. You can check out the specifications of these wonderful machines here www.auto-gyro.co.uk
For those who purchase a factory-built gyro prior to attaining their PPL(G), we are also able to offer flight training in your machine as long as the required dual controls are installed.
Online Training Records and Training Material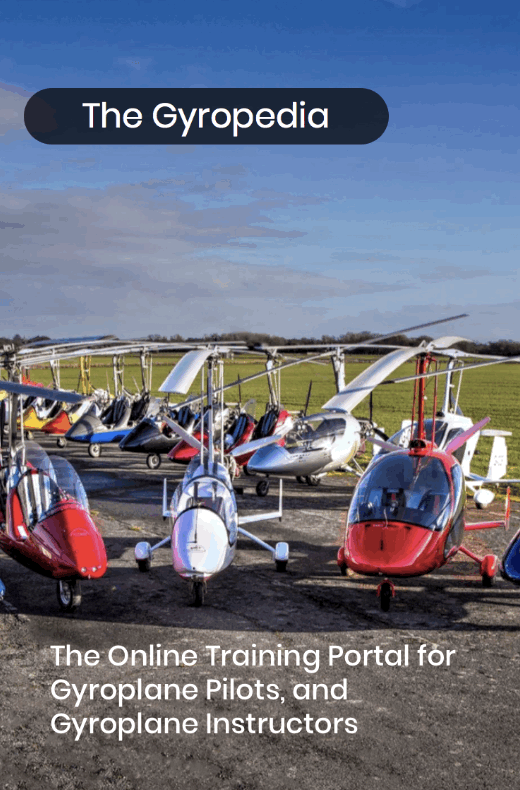 Your pilot training records will be available in the web portal called "The Gyropedia". This is a web based program that allows us to easily comply with all the training standards set by the UK CAA (Civil Aviation Authority) and IAPGT (The International Association of Professional Gyroplane Training). It allows you to follow your progress through the course.
The Gyropedia also contains a complete set of online training material, incorporating videos, study guides and question banks to help you prepare for your lessons and the exams. The training material elements of the Gyropedia are enabled with an annual subscription (£10/month paid annually in advance).
The Gyropedia can be accessed from the "Gyropedia" link in the menu bar. Please note, there is a separate registration for the Gyropedia, which is an independant system from the registration on the main Gyrocopter Experience website (the username and pasword are not currently linked).