Pilot Training
When it comes to pilot training it is true to say that not all aircraft are created equal. There is no doubt that the Magni M16 is the finest training gyroplane available in the UK, and we see significantly improved progress from our students who fly it. Why is that? Well, the Magni provides the sort of steady, easily controlled platform which reduces your workload and allows you to focus on more than just controlling the aircraft. We know that open-cockpit aviation is not for everyone so we also have the superb Magni M24 for those who prefer to fly "indoors". To make sure that we have all the bases covered we also have a Rotosport MT-03, so if that is your aircraft of choice we can train you on that too. All of our aircraft our powered by the top-of-the-range Rotax 914 engine providing us with extra performance for the ultimate flying experience.
Our superb facilities at Popham are an ideal location for our intensive courses, run over 4 or 5 days,which get your training off to a flying start. Our courses cater for those who wish to train for their PPL(G) as well as for more experienced gyro pilots who want to extend their skills on one of our advanced flying courses or prepare for their flying instructor training.
When you attend one of our intensive courses you will fly for around two and a half hours each day - which may not sound like much but learning to fly is an intense and demanding experience and you will need time between lessons to relax and assimilate what you have learned.
If you wish to undertake your training on a less intensive basis we can accommodate that too - we've had great feedback from all of the training which we do, and you will be learning with one of the UK's most experienced gyro instructors.
Our students have come from all walks of life - we have trained everyone from hairdressers to airline pilots, from 7-year olds (OK, I haven't quite finished teaching the kids how to fly just yet ...) to pensioners - they all love the experience of flight and, more importantly, have enjoyed the journey they have taken to master these amazing machines.
If you are learning to fly from scratch don't worry - we have the tools and experience to make the journey as enjoyable and productive as possible. If you are converting from another form of aviation our CFI flies aeroplanes too so he knows exactly what it is like to step out of an aviation "comfort zone" and try something new!
Our Aircraft
The Gyrocopter Experience Basingstoke offers training, solo flying and experience flights in both open-cockpit and enclosed gyroplanes. For enclosed flying we have the superb Magni M24, the first factory-built side-by-side enclosed gyroplane type approved in the UK. The M24 enjoys all of the fantastic handling qualities which make the Magni gyroplane range such enjoyable and reqarding aircraft to fly, as well as offfering the comfort and convenience of enclosed, sociable flying.
If you want to enjoy the thrills of open-cockpit flying then we are fortunate to have our own Magni M16 - which we consider to be the finest training aircraft available. Powered by the powerful Rotax 914 turbocharged engine, it provides unmatched stability and and rapidly generates confidence and skill in our students. Our M16 was new in March 2016, so not only is it one of the finest training machines available but it is still factory-fresh!
If you have your own gyroplane we can teach you to fly that too - as long as it is a UK-approved factory-built machine.
Online Training Records and Training Material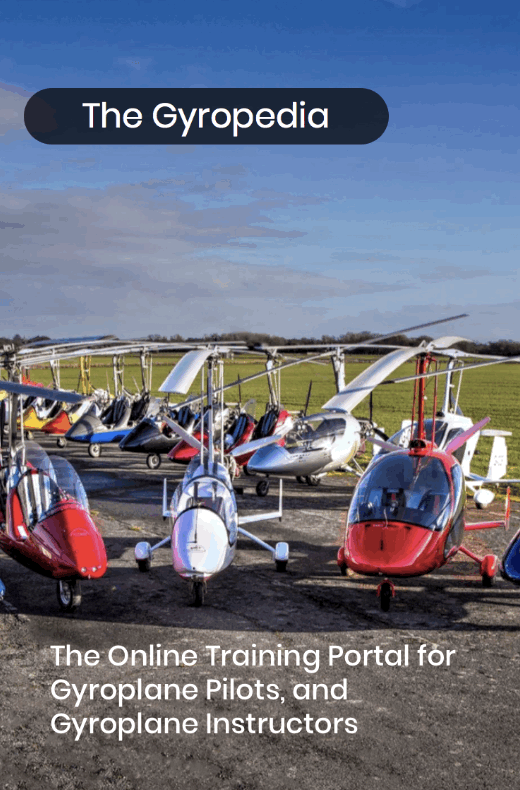 Your pilot training records will be available in the web portal called "The Gyropedia". This is a web based program that allows us to easily comply with all the training standards set by the UK CAA (Civil Aviation Authority) and IAPGT (The International Association of Professional Gyroplane Training). It allows you to follow your progress through the course.
The Gyropedia also contains a complete set of online training material, incorporating videos, study guides and question banks to help you prepare for your lessons and the exams. The training material elements of the Gyropedia are enabled with an annual subscription (£10/month paid annually in advance).
The Gyropedia can be accessed from the "Gyropedia" link in the menu bar. Please note, there is a separate registration for the Gyropedia, which is an independant system from the registration on the main Gyrocopter Experience website (the username and pasword are not currently linked).