The
Gyrocopter

Experience - Algarve
Pilot Training
The school primarily offers full time training Monday to Friday All training is carried in accordance with CAA regulations and allows training towards your UK Pilots licence gyroplanes. Students should anticipate completing a minimum of 10 hours per week.
Price per instructional hour is £149.00
Kevin has recently qualified as an FIC, Flying Instructor course. This means existing pilots can now train for there Instructor ratings in Sunny Portugal. Please e mail for costs and details.
Online Training Records and Training Material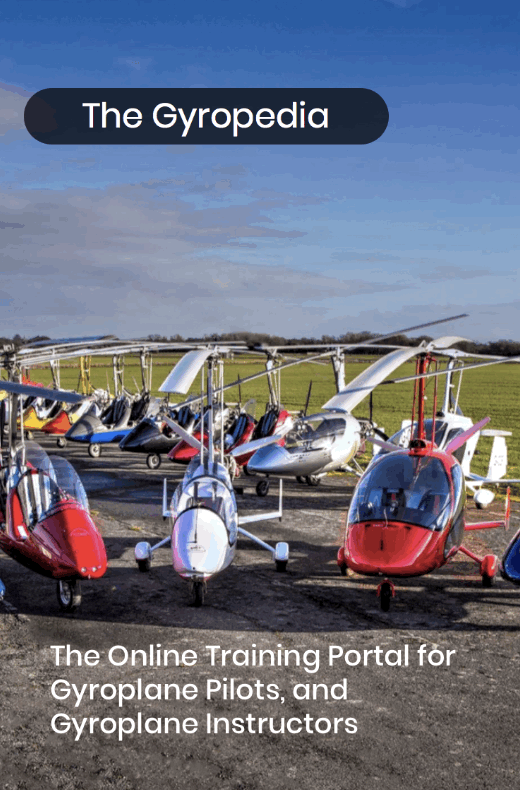 Your pilot training records will be available in the web portal called "The Gyropedia". This is a web based program that allows us to easily comply with all the training standards set by the UK CAA (Civil Aviation Authority) and IAPGT (The International Association of Professional Gyroplane Training). It allows you to follow your progress through the course.
The Gyropedia also contains a complete set of online training material, incorporating videos, study guides and question banks to help you prepare for your lessons and the exams. The training material elements of the Gyropedia are enabled with an annual subscription (£10/month paid annually in advance).
The Gyropedia can be accessed from the "Gyropedia" link in the menu bar. Please note, there is a separate registration for the Gyropedia, which is an independant system from the registration on the main Gyrocopter Experience website (the username and pasword are not currently linked).