Pilot Training
For those of you that have decided to take the plunge and gain the full Gyrocopter Private Pilot Licence PPL(G), you have chosen the right place to learn. Our personal and professional flight training programme in alliance with the International Association of Professional Gyroplane Training (IAPGT), offers the very latest in worldwide best practice, with a fully integrated e-learning platform. The Gyrocopter Experience has taught hundreds of pilots over the last 10 years, and remains the world leader in Gyrocopter Flight Training.
Student pilots are usually booked in for weekly intensive courses (Monday to Friday), with an expectation to complete around 10 hours of flight training plus classroom briefings. The benefit of this structure enables students to make large advances in their understanding and skill level in a relatively short period of time.
Flying from Inverness International Airport gives you the unique perspective of the professional pilot. You will learn to become confident speaking to Air Traffic Control, and flying into commercial airports. You will also have the benefit of landing away at General Aviation Airfields as well as Farm Strips. The versatility of the Gyrocopter, along with the professional outlook of the Gyrocopter community has quickly allowed us to access the full range of flight services in the UK. The aircraft might be small, but we are making a big impact within the aviation community.
Due to the placement of Inverness within its mountainous surroundings and the sea, we enjoy a surprisingly pleasant micro-climate. We receive far less rain than usually expected across the Highlands, which allows us to fly for most of the year.
We have recently seen the introduction of the Gyroplane Night Rating and the Commercial Pilot Licence CPL(G). Gyrocopter Experience instructors are the first in the country to gain these qualifications, and are leading the way in its development.
Moving forward, there are a number of advanced courses for existing gyrocopter pilots under development, and at Inverness we are working towards offering specialist Mountain Flying and Beach Landing courses.
Online Training Records and Training Material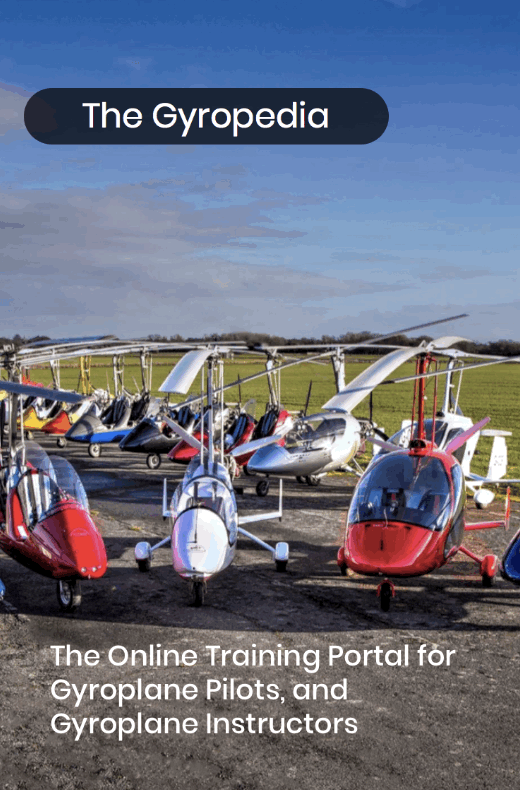 Your pilot training records will be available in the web portal called "The Gyropedia". This is a web based program that allows us to easily comply with all the training standards set by the UK CAA (Civil Aviation Authority) and IAPGT (The International Association of Professional Gyroplane Training). It allows you to follow your progress through the course.
The Gyropedia also contains a complete set of online training material, incorporating videos, study guides and question banks to help you prepare for your lessons and the exams. The training material elements of the Gyropedia are enabled with an annual subscription (£10/month paid annually in advance).
The Gyropedia can be accessed from the "Gyropedia" link in the menu bar. Please note, there is a separate registration for the Gyropedia, which is an independant system from the registration on the main Gyrocopter Experience website (the username and pasword are not currently linked).